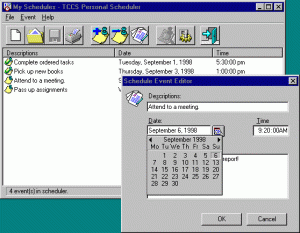 TCCS Personal Scheduler is a scheduler cum reminder for all your dates, appointments, meetings, etc. With TCCS Personal Scheduler, not only you can schedule all your work, but it will remind you when the date had reached. It will even stay activate when your computer is off, and it will reminds your schedules as soon as your computer is turned on. You can also save and print out all your schedules. TCCS Personal Scheduler will integrate seamlessly and transparently with your Windows operating system. It gives you a feel as it is built-into Windows operating system, and will not interfere and conflict with your other favourite Windows applications.
How to run the program:
Download the setup file of the application here.
Double click on the setup file setup_tccsscheduler.exe that you have downloaded.
Follow the instructions throughout the setup process.
Features:
Simple and straightforward user interface
Automatic reminder alarm
Generate hardcopy schedule
"This scheduler provides you with a very simple and easy to use planner. It's a bit featureless but will definitely be better than having all those to-do lists and pieces of paper scattered around. Adding an event is as simple as clicking a button and entering all the details. The scheduler hides in your system tray and reminds you whenever you set a schedule alarm. Quite good, especially since it's free!"
– Yippee Shareware