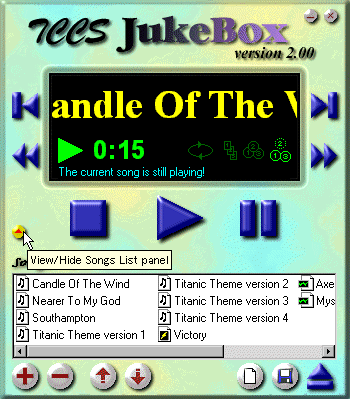 TCCS JukeBox is a Windows based multimedia file player. Unlike Media Player which came along with every Windows operating system, TCCS JukeBox is capable to play a collection of multimedia files. It just like a real jukebox. It can even play them in various methods that you preferred. TCCS JukeBox is capable to support all Windows multimedia files, including MIDI, WAV, CD Audio, MP3, MOD, AVI, etc. Now, you can enjoy listening to your favourite collection of songs while you are working on your computer.
How to run the program:
Download the setup file of the application here.
Double click on the setup file setup_tccsjukebox.exe that you have downloaded.
Follow the instructions throughout the setup process.
You will be asked to install MOD4WIN multimedia driver during the setup process. Unless you have a similar driver installed, you will need to install this driver to enable TCCS JukeBox to play MOD files.
Features:
Intuitive user interface
Enhanced songs list play options
Extensive support of multimedia files
"Very swish looking media player. Better than the rest because it is also a jukebox, supporting random, sequential and combined play ordering. Fast, easy to use and free!"
– Yippee Shareware