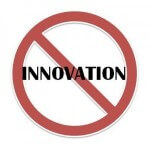 This is an interesting article excerpted and summarized from Why You're Blind To Innovation, "Top people at leading companies often fail to respond to new innovation even as it threatens their very existence. There's the U.S. auto industry's lack of response to the onslaught of Japanese cars in the '80s, or IBMs failure to shift from mainframes to PCs, an oversight that nearly sent them into bankruptcy in the late '90s."

We resist innovation because it appears to be less profitable.
---
IBM didn't see the need for innovating their mainframe business since PCs and servers were initially far less profitable. But Apple mints far more profits from its lower-volume yet expensive iPhone than Nokia does from its high-volume and less expensive more basic devices.
Our existing business models don't have the capability to deliver the new technology.
---
We are of lack the design, sales, manufacturing, marketing, branding, and other capabilities needed to respond. During 1980s, U.S. auto industry lacked the manufacturing discipline, motivated workers, and processes like Total Quality Management needed to compete with the Japanese car invasion.
We often cannot see what we don't expect to see.
---
Seeing only what we expect to see while completely missing other stimulus allow us to filter out extraneous information in order to focus on what's important, giving us the ability to take shortcuts and make faster decisions. But at the same time, this also keep us from seeing anything new that doesn't fit our beliefs. They keep us from learning. For thousands of years we believed the Earth was flat. When Copernicus proved otherwise in 1543, we fought against the idea for another few hundred years.
The question is, now that we know what stop us from innovating, what are the ways to see past old paradigms to practice how to embrace innovation? You can even try out the Innovation Scorecard Test if you are not sure which area you should focus first.