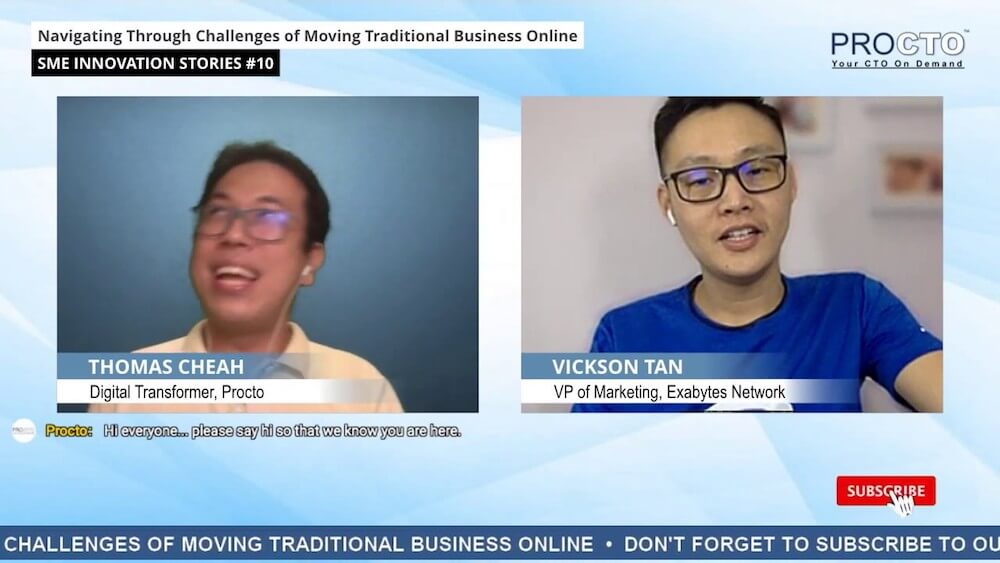 When Vickson Tan successfully helped his mum to sell traditional Nyonya Kuih (a type of Malaysian dessert) on the Internet, he was very determined to help more SME business owners in Malaysia to transform their traditional business to online. "The information overload in digital strategy and marketing often throw business owners into many hours of trial and error that may not bear fruits," said Vickson during our live interview on SME Innovation Stories #10. He has seen too many business owners trying to do too much and fall flat on their faces. During our interview, he shared with us his inspiring stories on transforming traditional grocery shops online. Vickson is currently the Senior VP of Marketing at Exabytes Network.

Thomas Cheah: What are the common mistakes that you often see when business owners try to move their traditional business online?
Vickson Tan: To be honest, it was not until recently that most SME business owners were in their comfort zone where they didn't see the urgency to move their business online. So the current Covid-19 outbreak is really a wake-up call for them in getting their online business set up. Most traditional business owners are totally clueless when it comes to online business model and they are lack of the necessary skills and manpower to execute it. Due to the information overload in digital strategy and marketing, some business owners set the wrong expectations where they thought their online business will start generating revenue within a week time.
Thomas Cheah: As you mentioned, business owners nowadays are flooded with too much information when it comes to digital strategy and marketing. What is the most basic thing that you would recommend them where they should start working on first?
Vickson Tan: To get started, they should get a basic website for their company up and running. This can be either a corporate website that features the company information, products and services; Or it can be a portfolio or showcase type of website; Or an online store. With their website up and running, they can now start to build their online brand awareness through word of mouth (online reviews) and social media. They can also allocate some marketing budget to spend on online advertisements on Facebook, Instagram, and Google.
Thomas Cheah: The real work is to make the website work for their businesses. What would be the subsequent steps that they should take so that they can start getting results from their website?
Vickson Tan: First and foremost, you should treat your website like your offline store. So the most natural next step is to start generating traffic and bringing visitors to your website. This can be done by organic sharing on social media, or paid advertisements. Aside from this, you can also combine with offline campaigns to promote your website, or engage KOLs (Key Opinion Leaders) and influencers. I guess the most important aspect of optimizing your website is to understand how your website visitors behave. By using website analytics, you can look into your website visitors behavior such as the number of visitors for each page, the duration of their visits, how do they navigate around your website, the page where they leave your website, etc. This is something new and exciting to most traditional business owners. The ability to generate real results from your website largely depends on your understanding on your visitor behaviors, and your ability to motivate them taking the action that you want, such as sending an enquiry or making a purchase.
Thomas Cheah: Most online visitors are attracted by good visuals. But unfortunately, not all business owners have the design skills and acumen to churn out good visuals. Do you have any tips to share in regards to this?
Vickson Tan: In the current days, virtually everyone is having a very good camera in their hands, which is their smartphones. We no longer need a DSLR camera to produce decent photos and videos. When it comes to photo editing, there are many free mobile apps, such as Foodie and Shot, which come with a wide range of filters that can allow you to edit photos like a pro. As for creation of illustrations, posters, banners, and other visual contents, free tools such as Canva, comes with a lot of images, fonts, and templates, to help you. To put it bluntly, with the modern tools available these days, there is no excuse for business owners to create good looking visuals for their website even if they don't have the design skills.
Thomas Cheah: Are there anything else that you wish to share with our audience to help them navigate through the obstacles as they are moving their traditional business online.
Vickson Tan: It's important that your website is always up to date. There is nothing more frustrating than visiting a website and trying to find a contact number and only find out that the number is no longer valid. Make sure that your website is hosted with the right company that supports your website with both good performance and solid security. If you are hiring someone to build your website, make sure that they are trustable and always reachable. One thing that I can't stress more than enough is always take control of your domain and hosting ownership. I met several clients who had lost control to their domain after their relationship with their web developers are no longer working. This can be both frustrating and pose risks to your business. When it comes to email address, you should always use professional email address with your domain name, and not other public email domains, such as gmail.com, hotmail.com, outlook.com, etc. This does not only increase professional perception, but also reinforces security and customer trust. Not to further mention, you should always backup your website. Simply put, you should keep as many copies of your website as you can afford and handle. Having website backups is always a relief in the event of data loss or server breakdown.
What is SME Innovation Stories Series?
This is a talk series that shares and analyzes case studies of digital transformation projects in the SMEs. The objective is to provide inspirations for SME business owners and CEOs on variety of ways they can innovate their business. The discussion will be presented in storytelling form of real-world projects, instead of theories and concepts.