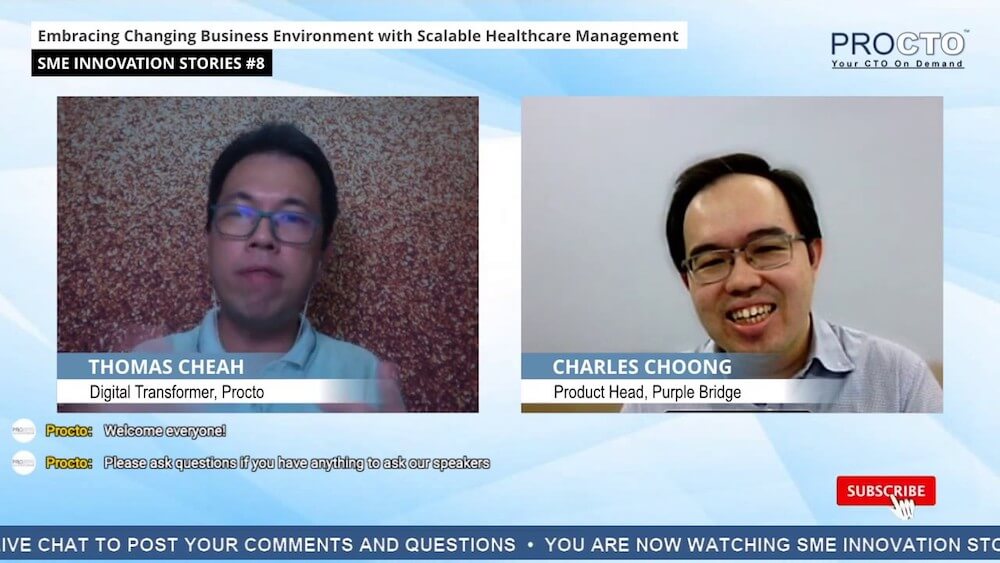 Charles Choong, the Product Head of Purple Bridge, have been implementing digital strategies that enable scalable growth and operational agility for healthcare organizations. "Increased regulation, tighter compliance, and rising operating costs. The combination of these factors have led the leaders in the healthcare industry to actively look for ways to be more cost-efficient without compromising high-quality care that they provide," said Charles when we interviewed him on SME Innovation Stories #8. In his past projects, he found that the most effective strategies is to optimize non-clinical operations, which involves workflows redesign, automation of manual tasks, streamlining of communication and collaboration internally and externally.

Thomas Cheah: Can you explain briefly how hospitals operate at a high level? Any differences and similarities between clinics versus hospitals and other healthcare organizations?
Charles Choong: In general, revenue management in hospitals is more complicated due to higher volume of in-patient treatments. This increases the workload of hospital back-office staffs (which is assumed by nurses in certain hospitals), such as payments processing and reconciliation, insurance claim management, billing dispute settlement, and customer service. Clinics are generally the scaled down version of hospitals, where their operation is mainly focusing on front-office, treatment, and payment.
Thomas Cheah: What are the common challenges faced by hospitals in Malaysia where you see opportunities for innovation? Which areas do you think they should focus on to make them more cost-efficient?
Charles Choong: One of the error-prone (yet critical) processes is charge capture and data entry, which often involves transfer of information from paper to digital system manually. Due to this, it is quite common to see hospitals make mistakes when they collect and submit medical information to insurers. Claim management is often tracked using paper based processes or Excel spreadsheet, which is quite tedious when it comes to consolidation of reports from multiple departments. All these inefficiencies can increase the overall operational cost. Their labor intensive cost structure also make their operation very hard to scale in the time of crisis and growth.
Thomas Cheah: Which areas do you think they should focus on to make them more cost-efficient? Can you share some case studies on these areas?
Charles Choong: Claim management and charge management are the two areas with the greatest value for automation. We often see these areas as "low hanging fruits" as there are less resistance to change and more acceptance of innovation. For charge management, we usually start with optimization of charge sheet by barcoding all chargeable items. The staffs can then scan and upload multiple items that will be captured in the computer system. Digital charge sheets require less physical space, speed up data capture, and provide audit trail for greater visibility. As for claim management, we usually integrate the workflow for clinic assistant, attending doctors, and billing staffs to capture and retrieve information to be submitted to insurance. Some level automation can be implemented in the retrieval and validation of patient information from multiple systems. Analytics and reporting are implemented to provide up-to-date monitoring of claim status. This digitalization process will improve overall patient experience as int accelerate the insurance claim process with less errors and delay.
Thomas Cheah: There are some hospitals are considering to replace their old Hospital Information System (HIS)? What would be your advice for them?
Charles Choong: For hospitals who have existing HIS, they can consider to adopt an add-on system that wraps around their existing HIS. The add-on system will integrate with the underlying HIS to provide additional functionalities for filling their process gaps. We usually recommend this as the default option to consider since it is more efficient. This approach eliminates the need for them to change the HIS, which their staffs are already familiar with. Therefore, they don't need to re-train their staffs and it is usually faster to deploy and reap the benefits. For hospitals who are implementing HIS for the first time, they should follow the best practices for enterprise IT, start by defining the scope, goals and problems, review all supporting processes, and source for technologies with the best alignment to their processes and goals. Agile implementation in phases is always a good idea to mitigate risks.
Thomas Cheah: To wrap up, what are the key takeaways for our audience to streamline their non-clinical operations?
Charles Choong: Digitalize and automate as much as possible, for example, the account receivable process, especially in the reconciliation of payment from patients and insurers. It is important to keep in mind that automation is not a one time effort. You should work with a trusted partner to constantly identify gaps and fine tune your automation.
What is SME Innovation Stories Series?
This is a talk series that shares and analyzes case studies of digital transformation projects in the SMEs. The objective is to provide inspirations for SME business owners and CEOs on variety of ways they can innovate their business. The discussion will be presented in storytelling form of real-world projects, instead of theories and concepts.